According to news on February 20, with the launch of a series of new Mac models, the transformation of Apple Silicon is expected to see results this year. In a new report from Bloomberg, Mark Gurman is optimistic about what to expect this year, and he also said that in 2022 there will be about seven Mac products with Apple Silicon.
He previously predicted that Apple would hold an event on March 8 that was expected to unveil at least the third-generation iPhone SE and fifth-generation iPad Air. There's no indication that a new MacBook Air or Mac Pro will ship next month, so a Mac mini is the most likely outcome. Apple is then expected to hold another Mac product launch in May or June.
Gurman: What to expect from Apple Silicon in 2022
In the latest issue of the Power On newsletter, Gurman detailed that these new Macs will be powered by the following processors:
Brand new M2 chip
Last year's M1 Pro and M1 Max chips
The super-double chip for the M1 Max
But how will these processors be distributed across the Mac lineup? Gurman wrote that he expects at least seven new Macs to feature Apple Silicon by 2022:
New Mac mini with M1 Pro chip
The 13-inch MacBook Pro with the M2 chip will succeed the 2020 version, positioned below the 14-inch and 16-inch MacBook Pros
Mac mini with M2 chip
24-inch iMac with M2 chip
Redesigned MacBook Air with M2 Chip
Large-screen iMac Pro with M1 Pro and M1 Max chips
Half the size of the Mac Pro (probably by volume), the first Mac Pro to feature Apple Silicon, the equivalent of two or four M1 Max chips combined
The next round of Mac launches will likely be in March, when Apple is expected to hold its first event of the year. Based on the fact that the entry-level MacBook Pro and Mac mini are "the two oldest Apple Silicon Macs in today's lineup," Gurman sees these models as waiting for an upgrade.
That means we can expect a new Mac mini and a new entry-level MacBook Pro once Apple actually releases the aforementioned on March 8. Then what Gurman calls "another round of Mac launches around May or June" wouldn't be too far off.
Apple wants developers to support the chips on the super-powerful Mac Pro, so I think the company plans to bring the product out as early as June at WWDC and officially launch it in the fall. The revamped MacBook Air would be a good holiday sale, so it would make sense for Apple to choose that time every year, even if Apple originally planned to release it in late 2021 or early 2022.
The second round of Mac releases will likely focus on the new iMac Pro and a new Mac Pro with a "super version of the M1 Max (all-in-one)."
The M2's CPU may be a bit more powerful than the M1's, but the chip should still use the same eight-core architecture. However, GPUs may be boosted from 7 or 8 cores to 9 or 10 cores.

There will be two main versions of the Mac Pro chips: one that's double the size of the M1 Max, and one that's quadruple. You can see 20 CPU cores and 64 GPU cores on the first chip, and 40 CPU cores and 128 GPU cores on the second chip.
Finally, Gurman noted that based on what we've seen so far on the Apple Silicon roadmap, he expects "Pro and Max versions of the M2" to launch in 2023 alongside the first M3.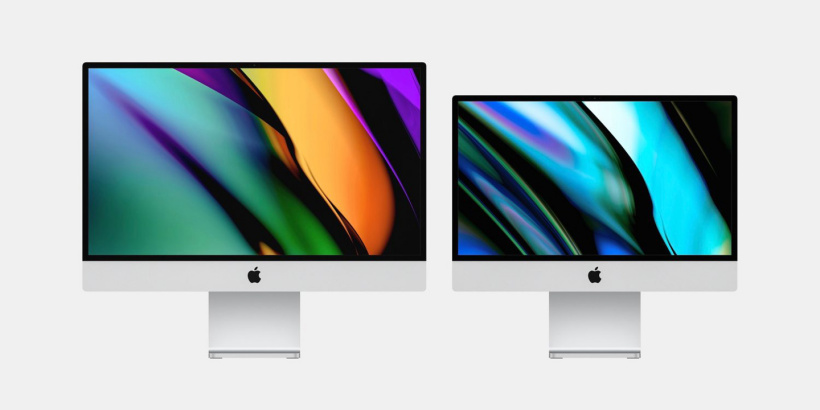 In addition, Gurman cautions that people shouldn't have high hopes for the new entry-level iMac. He believes that if Apple only makes a Pro version for the larger-screen iMac (the rumored iMac Pro), it will use the display size as another "Pro" to differentiate it from lower-end models, meaning the company has no plans to launch Entry-level iMac, but you can also get 24-inch and 27-inch iMacs.
He doesn't mean here, though, that the company has canceled all possible plans, just that there are currently no signs of a near-term release.
The rumored larger-screen iMac (Pro) will use display size as a differentiator from the lower-end model "Pro", "Maybe there will be a lower-end iMac with a larger screen at some point, but I'd be very surprised. If Apple intends to launch such a Mac, and it probably did so a few months ago — maybe even last April, with a smaller screen size revamp."
Gurman then wrote a bit about a possible iMac Pro, which he thinks could launch "around May or June," since it doesn't look like Apple is launching the pro model at its March launch event.
All indications are that Apple is focusing its attention on professional iMacs with larger screens than the 24-inch models. It will be powered by the M1 Pro and M1 Max processors from the latest high-end MacBook Pros. If Apple just went with a "Pro" design for the larger iMac, as it did with the MacBook Pro with its 14- and 16-inch screens, it would use the display size as another "Pro" with lower-end models the difference.
So far, this upcoming iMac Pro has been thought to feature a 27-inch display with miniLED and ProMotion technology. With the M1 Pro and M1 Max chips, Gurman said, Apple will likely be betting on sober colors, most likely space gray and silver, as it has done with the current M1 Pro and M1 Max MacBook Pros .
While the Macs that debut in March could be the new mini-LED iMac or Mac mini, the other three are obviously unlikely to appear before the fall.
In December 2021, @Ross Young had said that a new iMac Pro model with a mini-LED display would be launched in the spring, and Gurman also raised the possibility of the machine being released at a spring event, possibly in March or April. moon. Now, @Young says he no longer expects Apple to release the new iMac Pro in the spring, and the new high-end all-in-one device seems more likely to launch in the "summer", and the iMac Pro display panel is expected to start shipping in June, followed by May be released in August or September.
Apple is rumored to be working on a Mac mini to replace the Intel-based model that has been in the lineup for some time. Apple updated the entry-level "Mac mini" with an "M1" chip in November 2020, but the high-end is still the Space Gray model with an Intel processor from 2018. Expected to release this year is the first redesign of the high-end model since 2010.
The new devices are expected to feature the MacBook Pro's M1 Pro and M1 Max chips, up to 64GB of RAM, four Thunderbolt ports, a design with a "plexiglass" top, and more.