It was reported on the 14th that the Redmi K50 e-sports version will be released on February 16th, Beijing time. Recently, the official has continued to warm up the new machine, and today the official has warmed up the battery information of the new machine.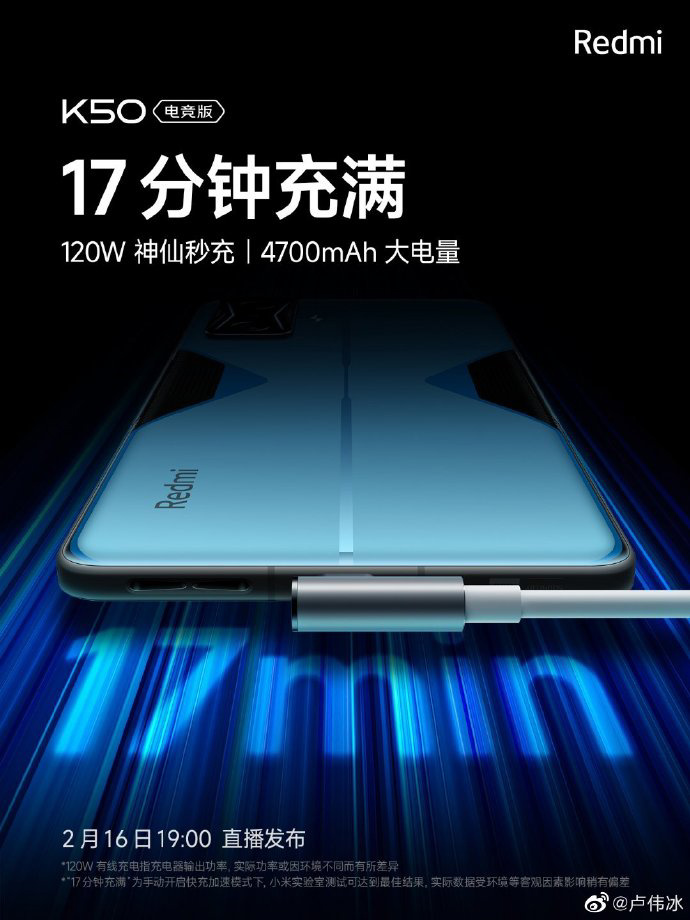 According to officials, the Redmi K50 e-sports version uses a 120W fairy second charge + 4700mAh high power, which takes only 17 minutes to fully charge. There is also a more powerful "air refueling" technology. At present, the official has not explained what this technology is.
It is worth mentioning that the official poster shows that the Redmi K50 e-sports version adopts a horizontal charging method, which is convenient for users to hold the phone more comfortably while charging while playing.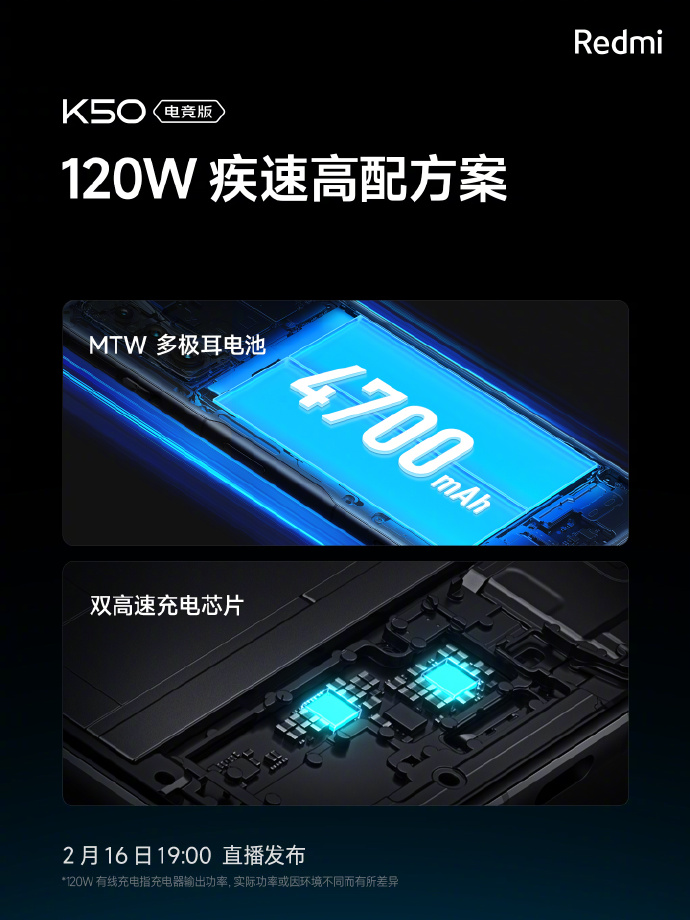 The official also said that the Redmi K50 e-sports version uses an MTW multi-pole battery, which has smaller internal resistance and lower heat generation; at the same time, it uses dual high-speed batteries for higher charging efficiency.
According to the official preheating, the Redmi K50 e-sports version is equipped with the Snapdragon 8 Gen 1 processor, and the world's first launch is equipped with the CyberEngine ultra-wideband motor. A set of exclusive gaming antennas are arranged on the side of the fuselage, leaving a large clearance area for the horizontal grip. The hardware level ensures stable signal reception and transmission. With the anti-interference algorithm, the game delay is greatly reduced by 30%.
In terms of design, the Redmi K50 e-sports version adopts a matte and matte process, with an X-shaped three-dimensional cut volume key, CD-patterned shoulder key switches, and a solid shoulder key design. slip.
In terms of screen, the Redmi K50 gaming version uses an OLED flexible straight screen with a 120Hz refresh rate, a 480Hz game touch rate, and a new generation of 1920Hz PWM high-frequency dimming. The touch screen area is increased from 2400×1080 to 24000×10800.