On March 18, according to Omdia's "Fourth Quarter 2021 Smartphone Market Tracker Report", Samsung's Galaxy A12 topped last year's list of the top 10 best-selling mobile phones, surpassing Apple's products. Although Apple has far fewer phone models than its rivals, it has consistently held the No. 1, No. 2, and other top sales rankings until now.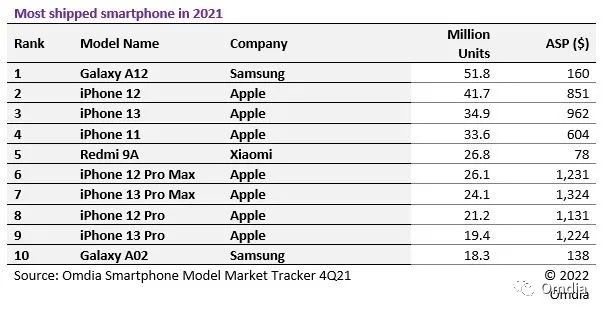 Since Samsung's Galaxy A12 was released in the fourth quarter of 2020, shipments have exceeded 10 million units in each quarter starting in 2021. Only in the second quarter due to production shortages caused by the relapse of the epidemic in India and Vietnam Exceed. For the full year, sales in 2021 will reach 51.8 million units. This is Samsung's first model to sell more than 50 million units a year, topping the shipment charts among more than 1,000 smartphones sold worldwide.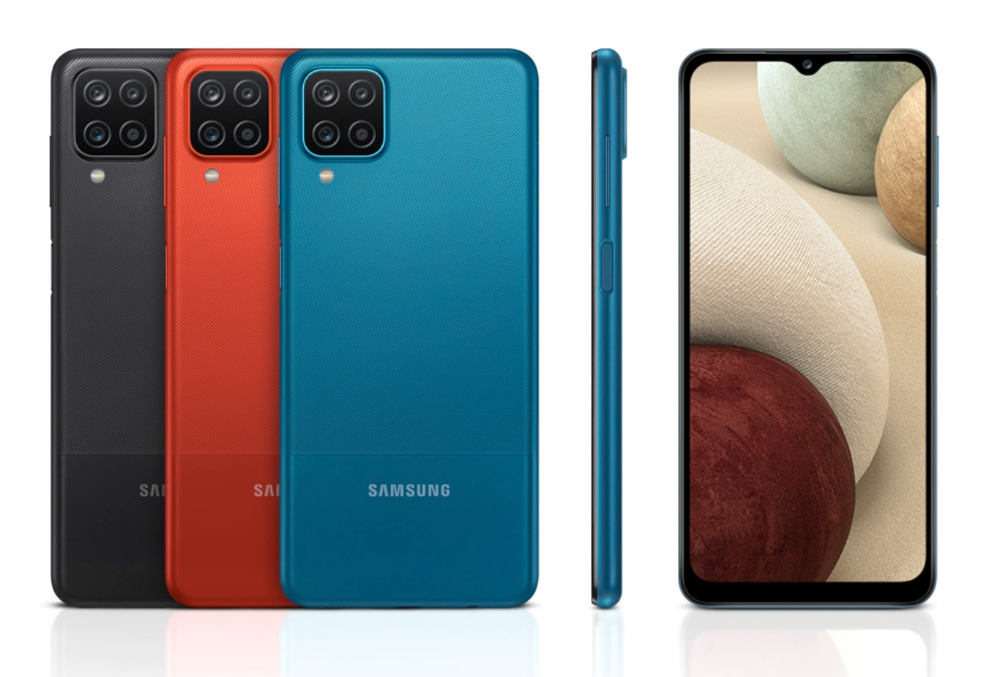 As competition with Chinese manufacturers intensifies, Samsung has focused on strengthening its mid-to-low-end product line, and starting in 2019, its low-end J series has been integrated into the current A series. At the same time, Samsung is steadily releasing configurations such as multiple cameras to the A-series models, and adding other features that consumers love.
Omdia said, "Although the average selling price of Apple's iPhones in the top 10 is five times higher than the Galaxy A12, it is Samsung's most efficient model, selling more than 50 million units in a single year."
The total sales of iPhone 12, iPhone 13 and iPhone 11, which occupy the second to fourth places, were 41.7 million units, 34.9 million units, and 33.6 million units, respectively. These iPhones are regular models in their series and cost less than their corresponding Pro and Pro Max models.
The iPhone 13, which Apple will release in 2021, is the second cheapest model in the series, just above the iPhone 13 mini. The lowest-priced version of the model has 128GB of storage for $829, which is on par with last year's iPhone 12 64GB version. But the overall average selling price of the iPhone 13 is higher than last year's counterpart due to the more storage space. Despite the price increase, iPhone 13 shipments reached 34.9 million units, more than 10 million units higher than last year's iPhone 12's 23.3 million units.
At No. 5 on the list is Xiaomi's Redmi 9A. Xiaomi's Redmi 9A has sold 26.8 million units, and the average selling price of the model is about $78, which is only about 1/10 of the price of the top-selling Apple iPhone models.
Rankings 6 to 9 are still occupied by Apple, and shipments of Pro models have increased significantly. Although the average selling price of the Pro model is well above $1,000, shipments still exceed 20 million units. Of the 234.5 million iPhones shipped last year, 39 percent were models with an average price of more than $1,000. This ratio is the highest Apple has ever seen.
"Apple's dominance in the premium market is growing stronger as the pandemic eases and consumer demand for premium smartphones increases."
Last in the top 10 is Samsung's Galaxy A02. Shipments last year were 18.3 million units. This is the second cheapest model in the top 10, after Xiaomi's Redmi 9A.
Among the top 10, Apple occupies 7 positions, Samsung 2, and Xiaomi 1. Compared to last year, Apple has two more positions and Samsung has two fewer positions. Xiaomi has the same position as last year, but its ranking has improved from 9th last year to 5th this year.