We know smartphones emit a certain amount of radiation, and a new report sheds light on the amount of radiation from some smartphones.
According to the latest report from Bankless Times, some older phones from Google, Sony, Motorola, OnePlus, OPPO and ZTE have the strongest radiation. The Motorola Edge topped the list, followed by ZTE's Axon 11 5G and OnePlus 6T.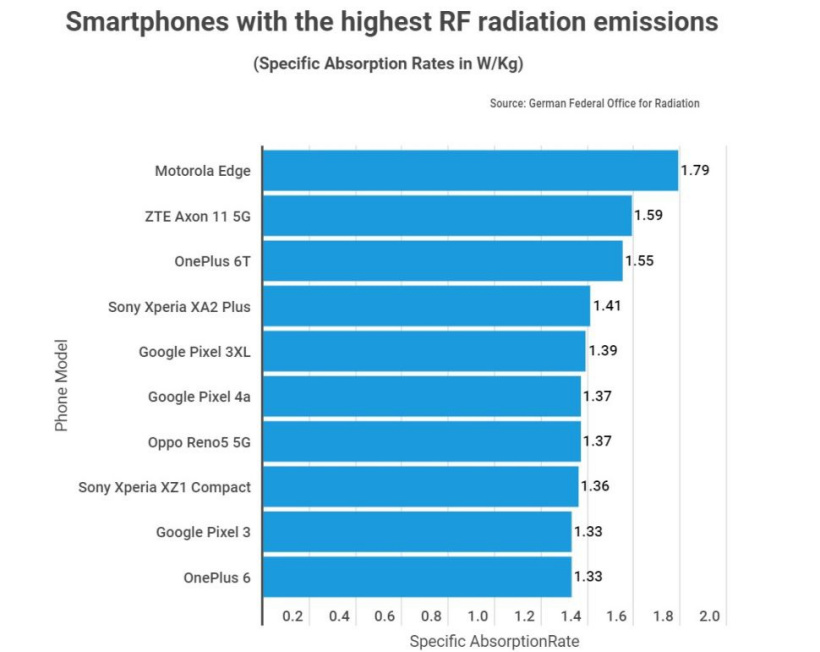 Several Google Pixel, OnePlus and Sony Xperia models dominate the list, including the Pixel 3, Pixel 3XL, Pixel 4a, Xperia XA2 Plus, Xperia XZ1 Compact, and the OnePlus 6/6T.
The study ranked the devices according to their specific absorption rate (SAR), which measures how quickly the body absorbs radio frequency energy. The graph below shows the SAR value for each smartphone.
The maximum SAR level specified by the Federal Communications Commission (FCC) is 1.6W/Kg. The graph shows that the Motorola Edge's radiated emissions levels have exceeded the maximum levels allowed by the FCC.
Still, according to the FCC, there is currently "no consistent or credible scientific evidence that exposure to radio frequency energy emitted by cell phones causes health problems."
A representative from Google's Pixel team told Android Central that SAR data is published for every phone they release, including the Pixel 3, Pixel 3XL and Pixel 4a, "These phones are fully within all regulatory and compliance guidelines of the country where we release them. Inside," the spokesperson said, "our newest phones, the Pixel 6 and Pixel 6 Pro, have lower SAR values."